2020-2021 Admissions Process
Entrance Exam
Please download the Application form and return it to the school's admission's office, in person or via email: admissions@colemancarroll.org.
Application
You will be asked to open a new account or login to the existing account.
Once you open the account with that system, you will be able to:
Fill out the application online
Fill out online registration form, upon acceptance
Fill out the Application online - $50 Application Fee.
High School Entrance Exam - $50 Exam Fee
Recommendation Form from Principal / Guidance Counselor (you will submit their name and e-mail address through the online application and we will send them an electronic form to fill out via e-mail).
Copy of Birth Certificate .
Parent / Student Interview with Admissions Committee.

Applicants applying for 9th grade:

7th Grade Final Report Card
Current grades from 8th grade

Applicants applying for 10th – 12th grade:

Official Transcripts from current school including most recent grades

Applicants applying for College Prep I or Achieve Program:

Psycho-Educational Evaluation dated within the last 3 years
Individualized Education Plan (IEP) / 504 Plan/ Physician's Statement

If your application is approved, you will receive an Acceptance Letter and you will be invited to enroll.

Fill out online Registration form (link provided upon acceptance to Archbishop Coleman F. Carroll High School)
Non-Refundable Registration Fee: $900 (includes technology fee) to be paid by June 1st, 2019
Take Placement Exam
Immunization Form (1)*
Physical Form (2) *
Attendance Contract (If applies)
Copy of Baptismal Certificate (If applies)
Tuition Agreement Form
8th grade Final Report Card or Final Transcripts (Mandatory for all transferred students)

For transfer students

(if applicable): Official Letter from school regarding complete Community Service Hours & letter of invitation or membership certificate from any honor societies received at previous school.
Copy of Step-Up, AAA, or McKay Eligibility Letter for Scholarship recipients

*Florida law prohibits a student from attending school unless these forms (1 and 2) are on file. These forms are available from your physician or the school the student is presently attending. These forms must be turned in prior to August 12, 2019.
International Students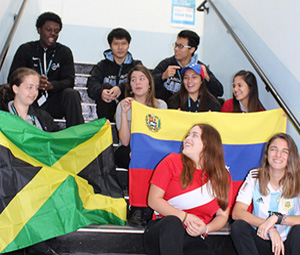 The Archdiocese of Miami is authorized by the United States Government to issue a SEVIS Form I-20 for international students wishing to study in the United States, under an F-1 or F-2 VISA.
International students must comply with all federal regulations before an I-20 can be issued; these requirements include, but are not limited to, demonstration of English proficiency, copy of birth certificate and passport, proof of financial resources, and fulfillment of all admission requirements to Archbishop Coleman F. Carroll.