SENIORS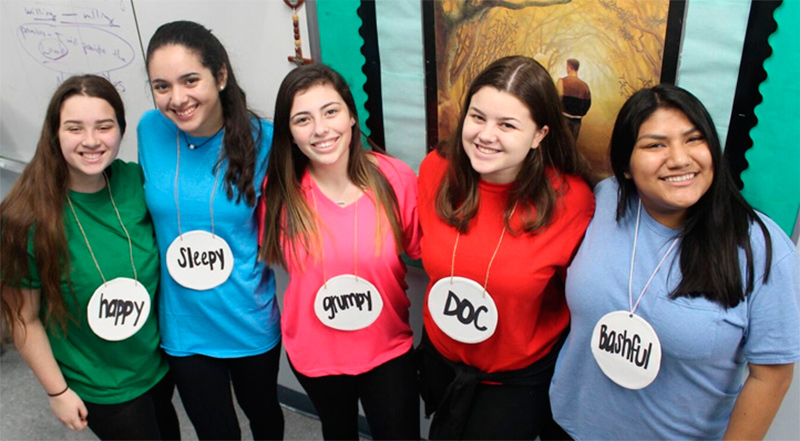 May 6th: Conflict/Make-up Forms Due
Conflict/Make-Up Final Exam Forms are due to Guidance by the end of the school day.
May 6th – 10th: Senior Spirit Week
This week will be filled with activities and dress downs specifically to celebrate the Senior Class. (Details on dress down themes and activities to follow at a later date).
May 8th - May 16th: Senior Final Exams & AP Exams
Students must arrive on time, be in full uniform and bring their ID.
Students arriving late to an AP exam may be denied from taking the exam. Students may pay the College Board make-up fee and take the exam at a later date.
Students arriving late to a Final exam may be denied from taking the exam. Students may pay a make-up fee and take the exam at a later date. Students eligible for extended time must report at 8:00 am for the first exam of the day. Extended time for the second exam will end at 12:15 pm.
Senior Exam Exemption Policy: Senior students may be granted an exemption from taking the semester exams given in May if they maintain a course grade of an "A-" or above during all four quarters within the same subject category (NOT an average between the two quarters. Students who are eligible for an exemption from an exam will be issued an "X" in the final exam column of their report card. This applies to all classes including theology, and American Government/Economics. This policy does not apply to Dual Enrollment and AP classes.
May 18th: Senior Prom
Hotel Colonnade, 180 Aragon Avenue, Coral Gables, FL 33134.
8:00 pm - Midnight
Formal Attire
Cost: TBA
Theme: TBA
Tickets can be paid for in the Business Office starting March 19th. Once ticket has been bought, receipt and prom packet must be turned into the Activities Office to complete purchase. (Packets will not be accepted without receipt of payment)
May 20th: Senior Luncheon
Baccalaureate Mass Practice (mandatory) - 9:00 am at Our Lady of Lourdes Parish.
Senior Luncheon & Yearbook Distribution at 11:30 pm in the Student Center.
May 21st: Baccalaureate Mass
Baccalaureate Mass will begin at 7:30 pm at Our Lady of Lourdes Parish.
Seniors must arrive by 6:30 pm to the Parish Hall and MUST bring their graduation gown (caps and cords are not worn).
May 22nd: Graduation Rehearsal
Graduation Rehearsal from 12:30-3:00 pm in the ACC Gym.
Students are required to arrive by 12 noon and are responsible for providing their own transportation. Parents are not allowed at the practice.
May 23rd: Senior Graduation and Awards Ceremony
Time: 3pm
Location: South Dade Cultural Arts Center
Each student is entitled to 4 complimentary tickets. Additional tickets are $12/each. Ticketing is handled entirely through the theater box office. (Detailed information will be sent home as the event approaches).
Students are to bring with them the graduation gown, cap & tassel, and cords & stoles (if applicable). Please review student dress code for this event. Parking will be available at the graduation venue and across the street at the Southland Mall. Students receive diploma covers at graduation, but not the actual diploma. (See diploma distribution dates and guidelines).
*Eligibility to participate in the graduation ceremony is dependent on a student's un-weighted GPA and credit requirements as mandated by the State of Florida.
June 4th: Diploma and Report Card Pick-Up Begins
Graduates may begin picking up diplomas and report cards at the Guidance Office starting at 10:00 am provided all graduation requirements (un-weighted 2.0 GPA; 24 credits) have been met. Tuition and fees must also be paid in full. Graduates who did not submit a Final Transcript Request Form to Guidance during Exit Interviews should do so at this time in order to ensure that universities/institutions receive transcripts by required deadlines.
Diplomas/transcripts will not be issued to any student who has outstanding disciplinary consequences to the Student Affairs Office (example: detentions). Any student who commits a disciplinary infraction during any end of the year senior events may have the infraction and their record go before the Student Review Board. The Board will determine what consequence, if any, the student will be required to complete prior to being issued their diploma and/or before having final transcripts mailed to the universities/institutions requested. Please note that the Student Review Board may recommend detentions, summer work hours, and up to expulsion for any grievous action which takes place during an end of year senior event.
Diplomas/transcripts may be withheld until the Student Review Board's recommendation has been fulfilled by the student. Please ensure that your graduate keeps this in mind since most universities acceptances are pending receipt of final transcripts by a specific deadline.