Music Program
The Carroll music program is in its third year under the direction of Mr. Emilio Lacayo Valle. In that time, the program has evolved from a music appreciation model, to an instrumental instruction model, emphasizing both individual instruction (piano), and ensemble-based courses (band and orchestra). In addition, Carroll offers drum line and choir as after school music programs.
BAND
The Band program at Carroll is only two years old, but is growing rapidly. This year, enrollment in band doubled, creating two sections. The majority of students joining band have never formally studied music, or a wind instrument. The goal of the band program is to reach high levels of musicianship, create a service learning-based performance calendar, and to prepare students to continue playing at the next academic level.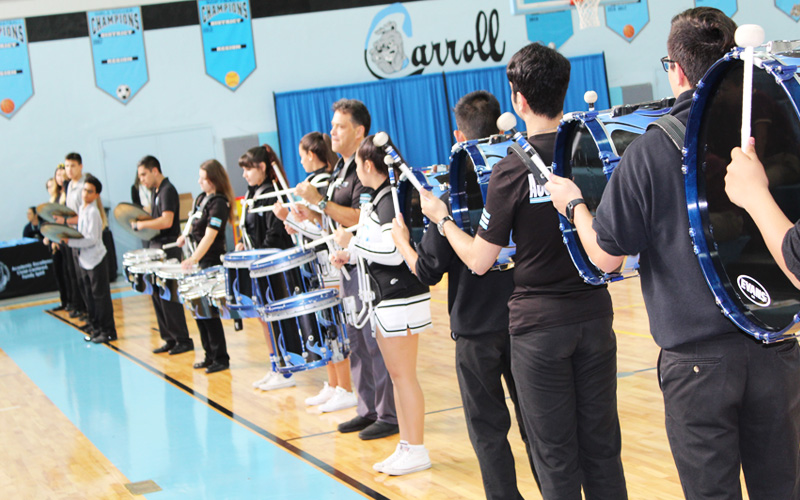 STRINGS
The strings class was introduced last year at Carroll, to the delight of students and staff alike. Students can choose to learn violin, viola, cello, or bass, and the majority of our musicians are beginners. This year's enrollment tripled, and we are very excited and looking forward to debuting the first-ever Carroll Orchestra!
PIANO
Last year, the music program built a piano lab with twelve new workstations. This year, piano gained much more popularity, as we opened a third section to accommodate twice as many enrollments as last year. No experience is necessary to take piano, or any music classes, and students have the opportunity to learn keyboard basics as well as music theory fundamentals. 
DRUM LINE
The drum line is the premier performance ensemble at Carroll, and can be found at many Carroll spirit and athletic events. The drum line is also Carroll's greatest service learning ambassador, performing throughout the year at such community fundraising events as Relay for Life, The Friendship Circle, The Miami Zoo Run, and several Miami parish festivals. No experience is necessary to join the drum line, and many members are also involved in other aspects of the music program.
CHOIR
Choir is an after school program, dedicated to service learning in our community. The choir performs for all campus ministry events, including monthly and class masses, prayer services, and other dedications and important school events. This year the choir will branch out to do more performance service in our greater Kendall community.