Carolina Fernandez-Villa & Alex Villa
Classes of 2009 & 2010
September, 2019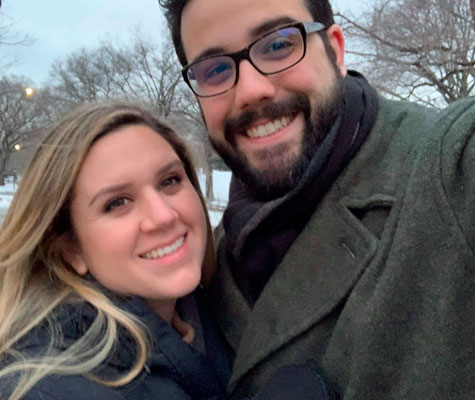 BA in English

University of Central Florida

2015
BS in Advertising

University of Florida

2014
Carolina - Archbishop Coleman Carroll

2010
Alex - Archbishop Coleman Carroll

2009
Carolina- Graduated Carroll in 2010. Graduated from UF in 2014 with a BS in Advertising. Carolina was a creative manager for a luxury real estate brokerage for a few years, working on the second largest development in the US.
Married Alex in February 2017 after 6 years of dating (they met before Carroll at the age of 11). She received a position at a branding agency in NY and moved in November 2017.
Carolina now works as a Creative Assistant Manager on the merchandise team for Disney Theatrical group. Fun fact: her name is in the playbill for Frozen, Aladdin, and The Lion King on broadway.
Alex - Graduated Carroll in 2009. Graduated from UCF in 2015 with a BA in English. He has worked in several different industries doing digital marketing and video production. He just started a new job with Douglas Elliman as a Marketing Associate with their new development team.
They currently live on the Upper West Side in Manhattan.
The Villa's wanted everyone to know: Life is filled with challenges and obstacles. If you work hard, treat everyone with respect, and value your worth; good things will come.
Good things have come to you both and we're so proud