Advanced Placement
What is Advanced Placement?
Advanced Placement (AP) courses are rigorous, college-level classes in a variety of subjects that give students an opportunity to gain the skills and experience colleges recognize.
AP (Advanced Placement) courses on campus are provided for students who are academically advanced and dedicated to their studies. Students in AP classes will take a final AP test with the possibility of earning college credit, depending on their final score. Requirements are based on PSAT, UGPA, and teacher recommendation.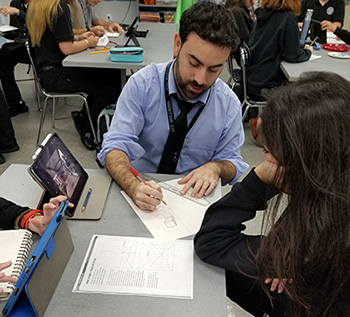 Courses Offered:
AP Calculus
AP English Language Composition
AP English Literature and Composition
AP Psychology
AP Studio Art
AP World History
AP US History
AP European History
AP Human Geography
2019 AP Exam Schedule
Week 1
Date
Morning 8 a.m.
Afternoon 12 noon
Afternoon 2 p.m.
Mon. May 4, 2020
United States Government and Politics
Physics C: Mechanics
Physics C: Electricity and Magnetism
Tue. May 5, 2020
Calculus AB
German Language and Culture
Calculus BC
Human Geography
Wed. May 6, 2020
English Literature and Composition
European History
Physics 2: Algebra-Based
Thu. May 7, 2020
Chemistry
Japanese Language and Culture
Spanish Literature and Culture
Physics 1: Algebra-Based
Fri. May 8, 2020
United States History
Art History
Computer Science A
AP 2-D Art and Design, 3-D Art and Design, and Drawing – last day for coordinators to submit digital portfolios (by 8 p.m. ET) and to gather 2-D Art and Design and Drawing students for physical portfolio assembly.
Teachers should have forwarded students' completed digital portfolios to coordinators before this date.
Week 2
Date
Morning 8 a.m.
Afternoon 12 noon
Mon. May 11, 2020
Biology
Chinese Language and Culture
Environmental Science
Tue. May 12, 2020
Seminar
Latin
Spanish Language and Culture
Psychology
Wed. May 13, 2020
English Language and Composition
Macroeconomics
Music Theory
Thu. May 14, 2020
Comparative Government and Politics
Italian Language and Culture
World History: Modern
Macroeconomics
Fri. May 15, 2020
Computer Science Principles
Statistics
French Language and Culture